OP-EZY International Pirate Radio
For the 50s, 60s, 70s, 80s, 90s and now!
OP-EZY, as we know it now, started on 27th November 2005 with the launch of OP-EZY International Pirate Radio, this was kind of the final name for what we'd been calling Ponteland High Pirate Radio. We had ditched this working title after the Alpha Nova incedent!
To be truly technical, only the station went online on the 27th, version 0.1a of the site only became live the next morning after initial tests of the station's broadcasting stream was approved by Tom Bullimore, listening in from a remote computer.
FACTOID: The intenrnal IP address of the server has always been 192.168.x.27 to coinside with the launch day!
We chose the 27th to go live as everyone we knew was at a birthday party (of course, Geeks were never invited to these things!), so word couldn't spread far during initial tests, which could have swamped our server! We used this time to figure out what level of compression was acceptable, yet still managable. We ended up streaming live in the MP3 format, at a 56kbps bitrate. I insisted we'd use a 56kbps stereo stream rather than a 112kbps mono one as, although this would be a lower quality stream, alot of people would be listening to our station in class, and would probably start complaining that the music sounded "flat and pushed in the middle".
Back then, we were using an old School computer which we had been given. It was our third machine, as the first and second one were both distroyed by what's known to us as "The Farming Crew"! If I hadn't pinched the 3rd machine when I did, it probably would have suffered the same fate!
The server was originally used to host a chat room on WinMX, and then sat in the corner, gathering dust for a couple of years until OP-EZY International Pirate Radio went on air. The specs of this machine were rather limited to say the least:
A Pentium II Processor clocked at 266MHz
32 Megabytes of RAM, later upgraded to 128 Megabytes
An 8 Gigabyte Hard Drive, later upgraded to 20 Gigabytes
Slackware Linux 8.1, upgraded to Slackware Linux 10.2, then Ubuntu Server Edition 7.10, then finally Ubuntu Server Edition 8.04 LTS
A few days into broadcasting, we got a few people to record some idents for the radio station. These were recorded on an el cheapo MP3 player (S1MP3). The specs of these audio files were roughly: 8kHz, 8-bit WAV.
I found these recordings, and have re-encoded them as MP3 for your listening pleasure. (or pain in this case!)
The first incarnation of the site, as explained earlier, went live on the 28th of November 2005, and was basically a page that gave people the basic information on how to listen to the stream. The keen eye of some people may notice the reference to the "op-ezy.selfip.com" domain. The current "op-ezy.co.uk" name wasn't live until the 21st of December that year.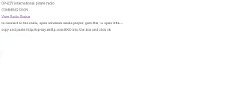 A day or so later, I decided to show my appreciaiton to Mozilla Firefox by placing a spinning Firefox logo to the page, nothing else really changed, so this page is classed as 0.1b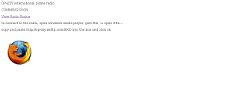 After a few days of being on air, people were complaining that they couldn't figure out how to listen to the station. Dispite there being instructions to copy the URL into Windows Media Player (I don't even think I knew about VLC Player at the time, though I should have at least meantioned Win Amp as that was what we used to broadcast.), people still ended up copying the URL into the browser, and ending up with the Shoutcast status page. So I quickly redesigned the front page and put the radio link into an M3U playlist file. This file was designed to run from location (rather that needing to be saved), and the operating system should have a program set to open these files. In the case of people at school, Windows was set to open M3U files with Windows Media Player. This lead to less complaints, and a higher listening count.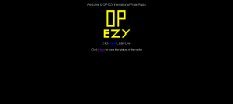 Tom Bullimore decided that the page needed sprusing up a bit, and decided to make a mock up of the site. As this was a joint effort, Tom decided to put our names down the side, and bring the spinning firefox logo back (which obviously doesn't spin on a mock picutre).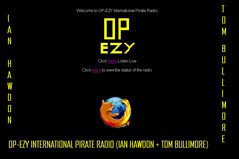 I wasn't that fussed about his changes, so I decided to modify the 0.2 site myself. I basically added a small table to allow for a second station. This second station was designated for Tom, but ended up being used by James Crawford a few weeks later.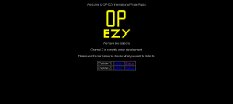 Tom decided to edit this page too, he added two Firefox logos this time (but by that point, I had decided large Firefox logos were a bit browserist!), and he had references to the first three idents by James, Jess, and himself.
Tom edited his idea again in Powerpoint, I felt his design didn't differ much from his previous attempt, so I didn't bother to convert it to HTML. Also, the Firefox logos were still a bit intrusive. To download his Powerpoint, click the image when the page loads.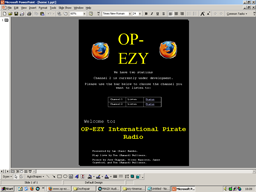 I told Tom that the site would look so much better if it was redesigned with Flash animations (side note, with a few more years of experience, I know now that Flash should be used sparingly, as it can cause problems, especially on systems that don't support it. Mobile devices for example). The new site had a new logo, which was created in flash, and a news ticker which gave updates about the stations, and the site status.
By this point, James had shown an interest in taking over the silent second station. Oli Harrison had also asked if he could broadcast on station 2, but James had asked first. I decided to take the risk and set up a third station for Oli, and he started broadcasting straight away. Until James started his station, station 2 mirrored station 3.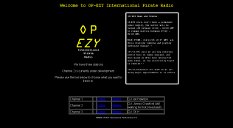 I decided to add a section dedicated to information about the site, and redesign the station selector in Flash. James started broadcasting on the 4th December 2005.