OP-EZY International... Today
Version 7 of the OP-EZY site was released just in time for the site's 6th birthday. It uses a CMS (a feature I originally planned for version 3) and uses Yahoo Weather to provide a live banner that changes with the weather in your local area. The page also changes its brightness depending on the time of day. This is, by far, the most technical OP-EZY site to date and hopefully, if it proves to be reliable enough, the next few OP-EZY sites will also be based on this new CMS, MagicPage!
OP-EZY today currently consites of:
*We hand pick which sites we host, anything on these sites (Unless I am the webmaster of that site) are not my views.
We also host a small page dedicated to a technology known as INTACTA.CODE. This was something that interested me when it was shown on BBC's Tomorrows World in 2000. But information about it has become harder and harder to find!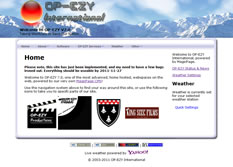 Sadly, the Time Machine can't look into the future, so we'll just have to wait and see what the future holds in store! Cheers for reading